SCHOOL CALENDAR
Lien vers les évènements de l'année scolaire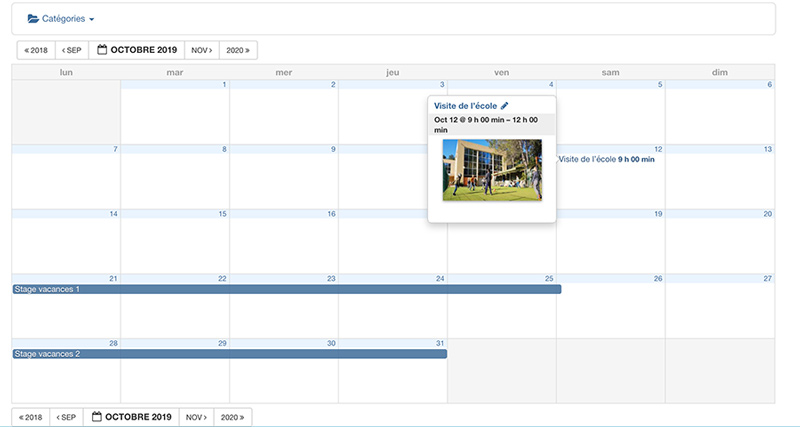 The school is open every Wednesday and the first week during the school holidays for workshops except Christmas and August.
The school hours are according to the classes:
from 08:20 to 16:15, Monday, Tuesday, Thursday and Friday
Parent's association
We contribute to the animation of the school's life through the following actions:
Events: Organisation of regular activities to create links, share and help each other. Some may be for-profit in order to finance the association or help the
Communication: Pass on useful information to
Mutual assistance between parents: Carpooling, book exchange, coffee talks, welcoming new families, outings, mutual aid and professional exchanges …
Parent exchanges play a very important role in the well-being of the school.
Various workshops or conferences are offered to parents by referents throughout the year.
Conferences and parent workshops
Throughout the year (usually on Thursdays), the Colibris team invites parents to participate in conferences on various themes related to the childs development, pedagogy and child psychology.
You will find the dates on the school calendar and in our new letters.
KIDS CARE
Kids Care is a communication and pedagogical monitoring tool that allows parents at the school to follow the evolution of their children's progress throughout the year in their classroom.
Each parent has private access to the application for their child.
Thanks to this application, parents have access to photos and news from their child's classroom, allowing them to follow the activities carried out in the classrooms and the life of the school.
Three times a year, parents have access to the follow-up of the child's progress.

Address
3735, route des Dolines
06410 BIOT / Sophia Antipolis
Alpes-Maritimes, Côte d'Azur, France