Teaching team presentation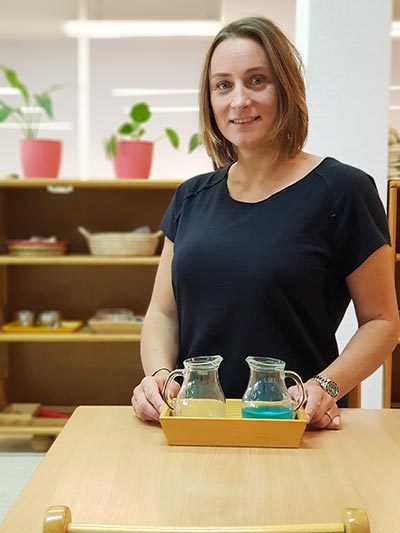 Hania Tarnowska
English speaking Montessori Teacher 2-3 Class
I originally come from Poland, where I grew up in a little village, surrounded by nature.
Children always were and are a big, and a very important part of my life.
When I was 12 my brother was born, and I was very happy to help my Mother to take care of him.
I did my first 3-6 Montessori training in 2003 in Ottawa, Canada and in 2014 I got my AMI diploma in Paris.  Before moving to France, I was working as 3-6 English-speaking Montessori teacher in Warsaw Montessori School in Poland.
Since 2014 I have been working as a 2-3 Montessori teacher in Les Colibris.
I enjoy working with children in Montessori classroom very much. Seeing their happy faces is really making my life happier, and better. Working with them, learning their personalities gives me a lot of satisfaction. Observing children's development, watching how they become more self-confident and independent every day, is just wonderful.
Is there anything more beautiful than a child who is smiling to you because he has just discovered that he can put his shoes on, open the button or say a word in English?
I think it is just priceless.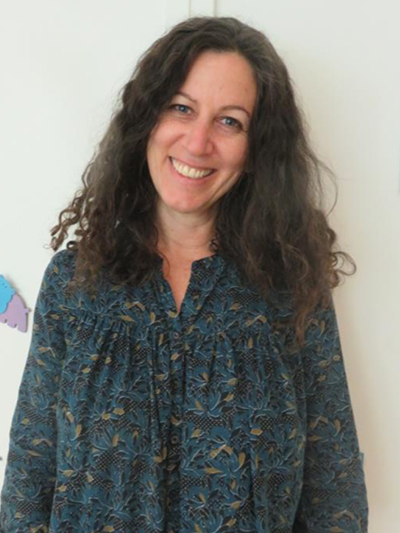 Géraldine AZOUELOS
French speaking Montessori Teacher 2-3 Class
After almost 20 years of a theatrical career, when my daughter arrived, I felt the visceral need to get
closer to the professions related to childhood. And I could only do it through Maria Montessori's
fabulous pedagogy.
After being trained at the Maria Montessori Higher Institute in 2016, as an assistant of the Birth at 3
years and then for « The Children's House », I decided to deepen my new passion with the training of
Educator for children from Birth to 3 years certified by the AMI (Montessori International Association).
My first 2 years of experience as a Montessori educator 0-3 years in an international Montessori school
filled me with confidence and conviction in my new path. Originally from Nice, I return to my family,
while continuing this beautiful path with young children, through their wonder and my caring
contribution. I have many passions to share with them, including dance, yoga, literature, cooking and
sewing.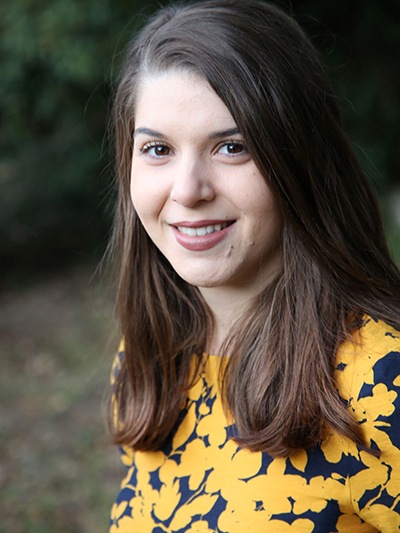 Cassandra Spelle
Assistant Educator 2-3 Class
I've worked in this school for almost three years as a 3-6 English speaking Montessori Assistant, and also have experience with the 2-3 year old children.
There's nothing that makes me happier than helping the children work with joy, envy, become autonomous, wanting to discover more every day, and always make sure that they evolve at their own pace, because every child is different, and they all progress in a different way.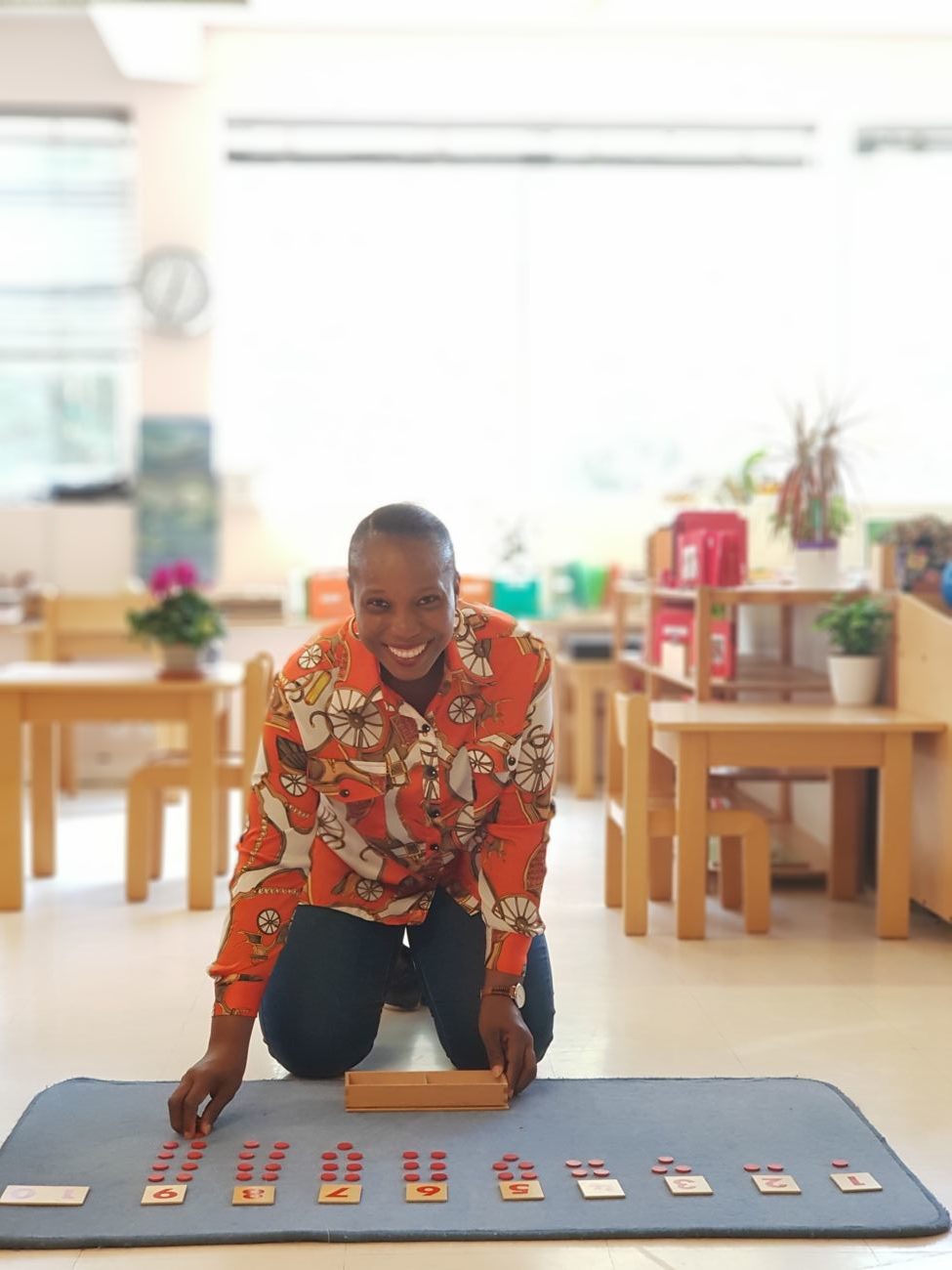 Feyisola Oyeleke
English speaking Montessori Teacher 3-6 Class
(Green classroom)
I am from Nigeria, where I have lived for the most part of my life. I moved to France recently to join my husband who has lived here for more than 5 years.
I am a skilled and certified Montessori Accreditation Council for Teacher Education (MACTE) approved Montessori Teacher with varying teaching experiences using the Montessori method and corresponding materials for children aged between 3 and 6 years.
Having the English Language training background and given my passion for Montessori education, I have identified three core values that guide how I execute my job viz :
Maximizing individual student performance through consistent teaching and monitoring.
Inspiring students in their areas of interest by feeding their individual passions
and
Developing a strong sense of self-worth in my students regardless of their gender, race or religion.
My experience providing home tutoring services has also helped me sharpen the critical skill-sets required to adapt quickly to each child's learning pace, need, and developmental milestones.
I am enthusiastic about working with the children and team at « Le Colibris ».
I am also confident that it's going to be one jolly ride even as I continue to strengthen my competencies as a Montessori teacher.
This I plan to achieve by developing myself  through hands-on trainings, seminars and conferences.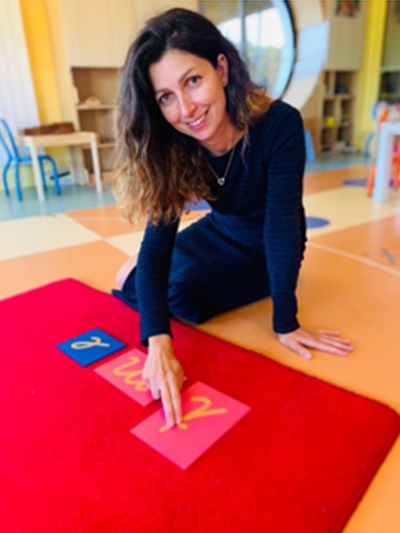 Nadège
french speaking Montessori Teacher 3-6 Class
(Green classroom)
Since my childhood, I have aspired to become a teacher with young children. 
I realized my project 12 years ago by becoming a School teacher and then Montessori AMI Educator for children aged 3 to 6 at the Institut Supérieur Maria Montessori.
Since then, I have met and followed many children, each different and unique. In a permanent search for learning in joy and adapted to each, this pedagogy has proved to be obvious to me. 
It corresponds to my vision of childhood and of the educator: To allow each child to grow in confidence while respecting his needs, his rhythm, his personality, and his dignity.
And it is with great pleasure that I exercise this profession which I am passionate about.
I also followed a Montessori training 0-3 years to understand and support the child from birth and convinced of the merits of this beautiful pedagogy, I apply it daily with my little boy.
I am delighted to be part of the Colibris team guided by the values ​​of benevolence and development of the child.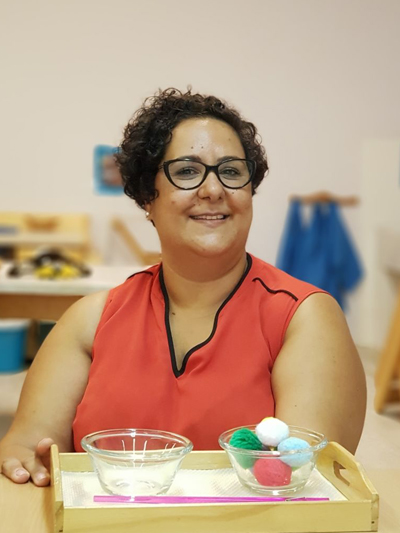 Imma
ASSISTANT MONTESSORI 3-6 Class
(Green classroom)
Of Italian origin, I have always been surrounded by children in my family and since childhood, I followed my mother in her kindergarten class.
I started my career in education as a teacher specializing in kindergarten, where I was able to accompany children with special needs for 4 years before leading an independent class for almost 2 years in Italy.
I have always been passionate about new pedagogies: in my country of origin, Maria Montessori's pedagogy is part of each teacher's knowledge in welcoming children and their families. But my thirst for knowledge of the method, pushed me to want to know this approach better: I thus looked for more specific books, made material and I put it into practice in my kindergarten class: it was a pleasure to see the children bloom and progress each day in autonomy…. what more beautiful.
Since my arrival in France, I have been pursuing my passion. I thus obtain a master 2 in Teaching, Education and Training, I prepare for the exam of teachers of schools, but the French traditional system does not suit me…
I then decided to start training as educators for young children and I obtained my diploma after three years of study. But my passion remains the Montessori pedagogy. And it was as part of this training that I had the opportunity to do a long internship with the Colibris: this time spent with dedicated professionals allowed me to know more about this pedagogy and these values ​​of justice, harmony, love and peace that I fully share.
I believe that we still have a possibility of building a new world and this one can be built through education. Learning to be a guide for children and the means through which they can understand the world, is for me a means of personal achievement: helping them and staying by their side is my fulfillment.
Working at the Colibris is the fulfillment of a dream….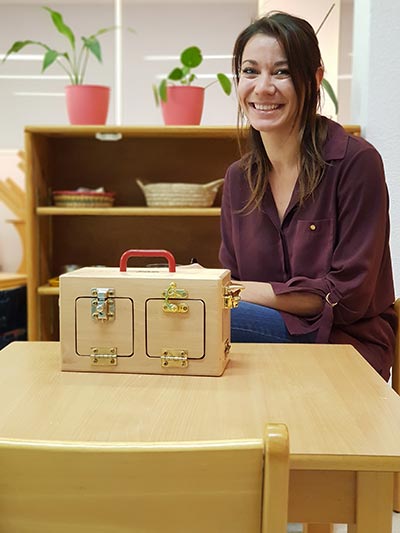 Elise Chenaud
french speaking Montessori Teacher 3-6 Class
(Yellow classroom)
I am originally from Lyon where all my family still lives. I first trained for my BAFA when I was only 16. I was already very attracted towards working with children .I started to work in summercamps , music workshops and different school outings.
I discovered the Montessori Education while traveling in Ireland where it is very developed . I moved to Dublin in 2009 to train as a 3-6 Montessori teacher in a private school.  I am also qualified by the Further Education and Training Awards Council in Ireland for Supervision in Childcare
At the end of this course I started working in an Irish Montessori School as an English Teacher in Dublin.
The need to be more around my family and in my country of origin made me move back to France in 2014. I started then working at Les Colibris in the 2-3 Classroom as a French teacher.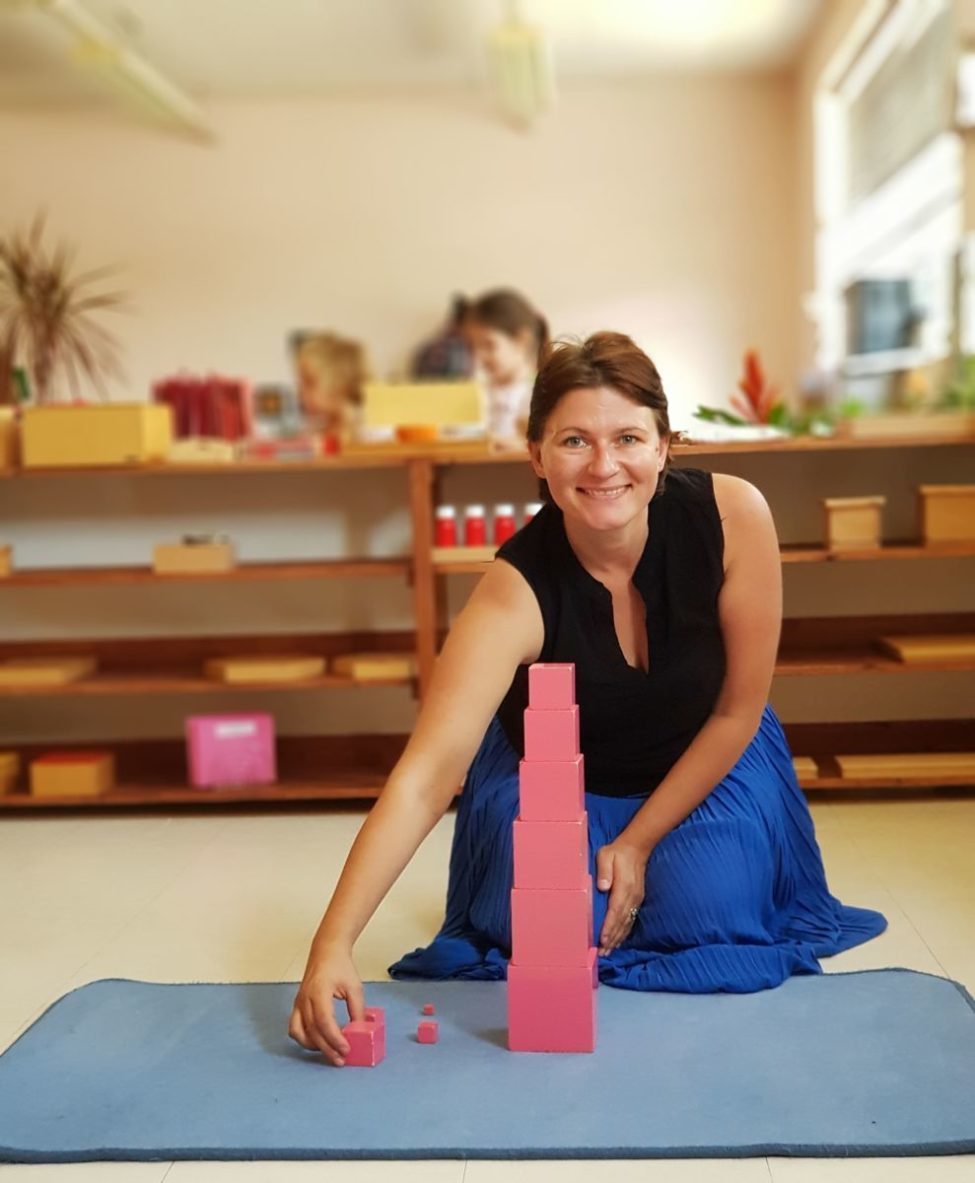 Ania Mulica
English speaking Montessori Teacher 3-6 Class
(Yellow classroom)
My name is Ania and I joined the Colibris team in 2019. I have been teaching for 12 years. I started as a ESL (English as a Second Language) teacher for children and adults in language schools, then I worked at international schools in Cambodia and Thailand, to finally take interest in Montessori pedagogy and philosophy.  I got my  3-6 AMI diploma in February 2020 and became the english speaking Montessori teacher in the 3-6 yellow class.
In my practice, I use my background experience in teaching English as a second language : I am CELTA and DELTA qualified. Additionally, I have university diplomas in English literature, language studies and political science. All these disciplines help me when working with children. I am very pleased that I have this opportunity to add to my professional development by practicing Montessori pedagogy.
In my free time I read and play with my daughter Helena. I am a big fan of Thai and Indian cuisine and so, I also spend my time recreating the tastes I miss from my previous life in Asia.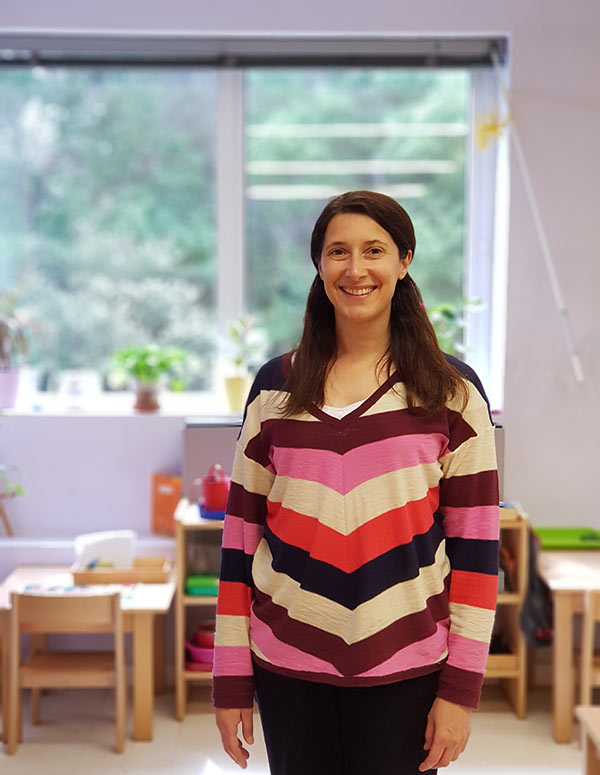 Sophie Simard

assistante Montessori  3-6 ans de langue française
(Yellow classroom)
À l'adolescence j'ai passé mon BAFA pour travailler au contact des enfants et je suis allée à Londres 1 an travailler comme fille au pair et m'occuper d'une fratrie.
Après des études de lettres à l'université, et m'être formée à la pédagogie Steiner-Waldorf 3 ans dont 1 année dédiée à la petite enfance, j'ai exercé 8 années en tant que professeur de français avec des adolescents de 15 à 18 ans en région d'Avignon. Nous pratiquions de nombreux ateliers d'écriture et faisions beaucoup de théâtre. Devant les difficultés biographiques que certains élèves rencontraient, j'ai senti le besoin de compléter mon approche d'aide à la personne par l'art-thérapie grâce au théâtre, au conte, à l'écriture, au modelage et aux arts-plastiques.
Mon envie grandissante de retrouver le monde de la petite enfance, je me suis naturellement dirigée vers la pédagogie Montessori que j'avais découverte lors d'un stage d'immersion. Je me forme à présent au cycle des enfants de 3 à 6 ans. Riche de toutes ces expériences et approches complémentaires, je souhaite prendre soin des enfants et les aider à grandir et devenir des hommes libres et conscients.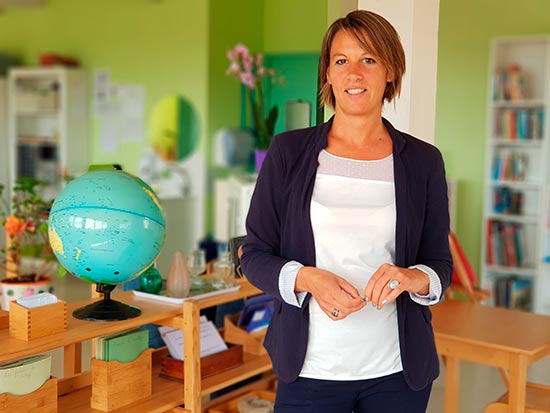 Marie-Laure Vinche

french speaking Montessori Teacher 6-9 Class
Classe 6-9 ans
Je suis française et j'ai découvert « par hasard » la pédagogie Montessori qui m'a profondément interpellée. Dès lors, tout s'est mis en place rapidement.
Je suis diplômée AMI 6-12 ans depuis juillet 2018 où j'ai passé ma formation à l'I.S.M.M. (Institut Supérieur Maria Montessori) de Montpellier.
Je suis attentive aux besoins des autres, j'aime la lecture, la nature et découvrir de nouvelles choses.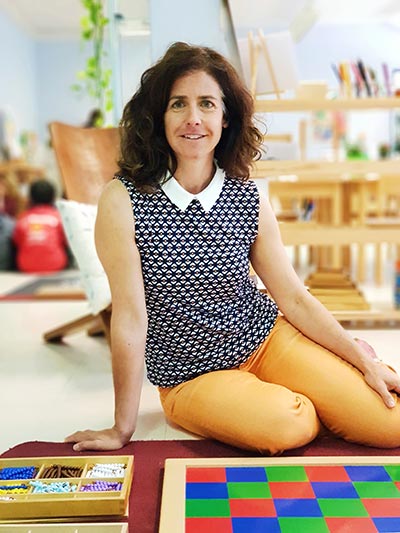 Emma Lafrance

english speaking Montessori Teacher 6-9 Class
Classe 6-9 ans
Je suis canadienne, trilingue français, anglais, espagnol et maman de 3 enfants. Je suis arrivée en France en 2002 avec une maîtrise (Bac +5) en littérature.
J'ai découvert avec grande fascination la pédagogie Montessori lorsque je recherchais à scolariser ma fille ainée, qui avait 2 ans à ce moment-là.
J'ai un certificat Montessori pour les 3-6 ans de France et un diplôme Montessori A.M.I pour les 6-12 ans du Montessori College Dublin. J'ai plus de 11 ans d'expérience en pédagogie Montessori et je suis toujours captivée par le développement de l'enfant.
Je suis très sportive, j'adore particulièrement le ski et le trail, et je suis passionnée par les arts : la danse, la peinture, la sculpture et la littérature.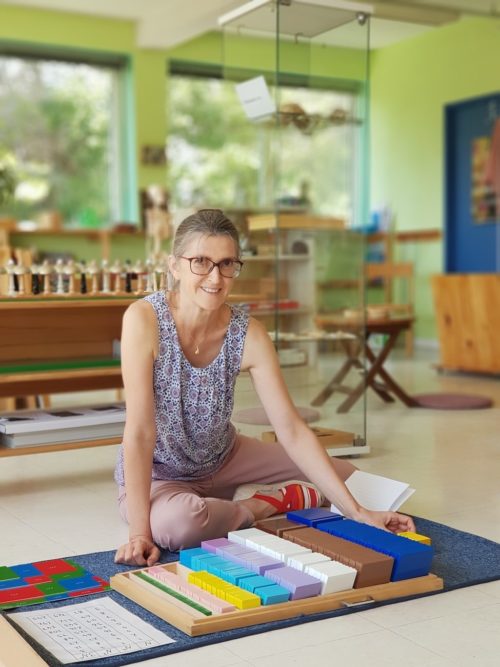 Nathalie Colin

French speaking Montessori Teacher 9-12 Class
9-12 class

Parisienne et la maîtrise de littérature anglaise en poche, je me suis envolée pour Liverpool. Ce fut le début d'une plongée dans un monde éducatif à pédagogie alternative basée sur des méthodes de recherche, alors innovatrices jusqu'à la découverte du travail de Maria Montessori à une période clé de ma vie.  
Diplômée par l'Association Montessori Internationale pour les niveaux Maison des Enfants en 2005 à Paris et Ecole élémentaire en 2009 à Saint-Paul, Minnesota (USA), j'ai traversé l'océan atlantique pour travailler onze années dans une école Montessori trilingue internationale où les éducateurs venaient de différents continents. Aux Etats-Unis, j'ai eu l'incroyable chance de suivre des enfants de la Maison des Enfants à leur départ en dernière année du niveau élémentaire, de voir les mots se concrétiser et leur potentiel se développer. Je continue de me former par plaisir et par besoin. Chant, dessin et maintenant, je plonge dans le monde des réflexes. 
Je suis contente de rejoindre l'équipe des Colibris. Travailler dans un environnement multiculturel, multilingue représente à la fois une richesse, une ouverture et une source d'inspiration que j'essaye de transmettre aux petits comme aux grands.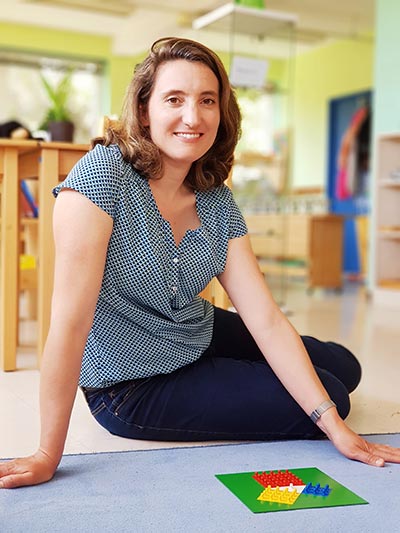 Isabelle Singer

english speaking Montessori Teacher 9-12 Class
9-12 class

Initialement professeure d'anglais en collège, j'ai compris très vite que je devais changer mes pratiques pour faire progresser au mieux mes « élèves ». Dès ma première année, j'ai ainsi travaillé sur comment mettre en place des activités différenciées afin que tous puissent avancer à leur rythme. C'est ensuite au travers d'un atelier sur la parentalité (soit après la naissance de ma fille), que j'ai découvert les travaux de Maria Montessori.
Convaincue des bienfaits de sa pédagogie sur les apprentissages des enfants mais surtout sur leur développement personnel (autonomie, épanouissement et confiance en soi), j'ai alors suivi des stages pour approfondir mes connaissances en 3/6, 6/12 et grammaire. Je voulais notamment essayer de transférer l'approche Montessori de la grammaire dans mes cours.
J'ai également participé à des ateliers Freinet pour en apprendre davantage sur les classes coopératives.
Persuadée également que c'est au travers de projets dont ils sont acteurs que les enfants se révèlent et donnent le meilleur d'eux-mêmes, j'ai cherché à mettre les collégiens en relation avec d'autres jeunes européens. J'ai ainsi réussi à monter, avec eux, un échange scolaire avec la Suède.
C'est donc après plusieurs années de réflexion que j'ai décidé de franchir le cap et de suivre une formation 6/12 ans (que je terminerai en 2019)  pour travailler en école Montessori.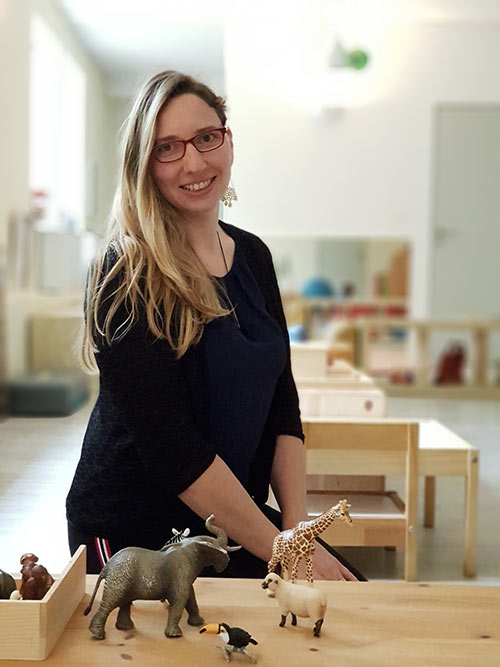 Julie Hancart
FRANCOPHONE MATERNAL ASSISTANT
I have a degree in graphic design and worked for an advertising company for 4 years. In 2008, I decided to go back to school to get my childcare assistant diploma from the Nice Red Cross. After 5 years of working in a state daycare, I decided to open a MAM which is more family oriented, and provides a loving and safe environment for babies and infants.
After having discovered Maria Montessori's teachings, I took a course in order to apply her principles which focus on the individuality of each child in respect to their own needs.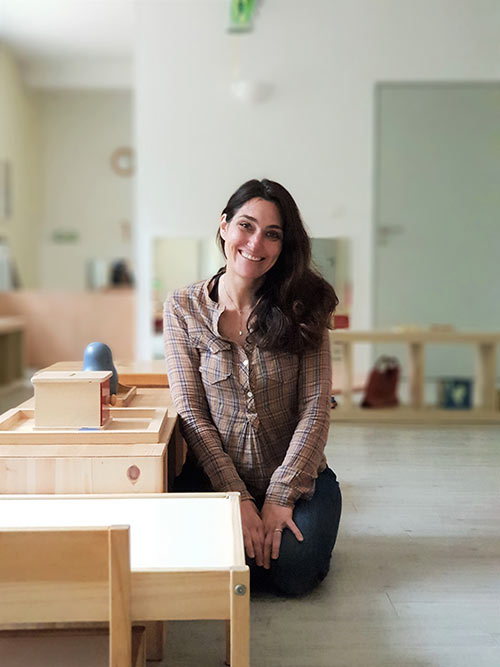 « Sealine » Céline Piquet 
ANGLOPHONE MATERNAL ASSISTANT
I am originally from Grasse but I grew up abroad ( childhood in Haïti and teenage years in the US). I have a bachelor degree in business administration and have worked as an international sales manager for over 10 years. Becoming a mother have changed my whole perception of the world and what I wanted to bring to this world. Fascinated by the little ones, their desire to explore their environment and world , I decided to change careers and work with children.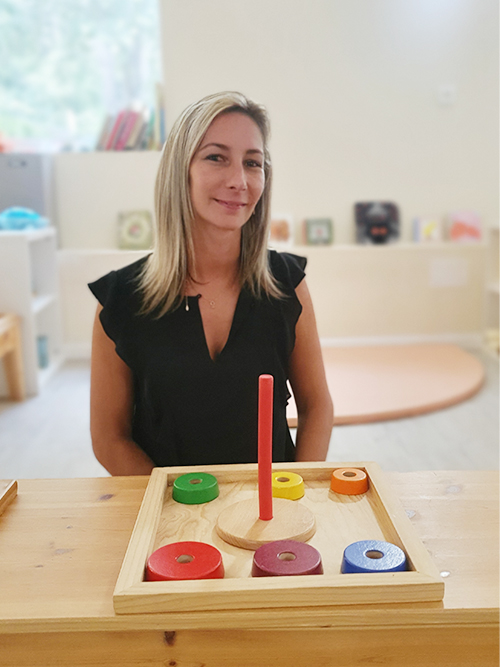 Aurélie Quatremere
 FRANCOPHONE MATERNAL ASSISTANT
I have always worked with children from 3 months to 4 years old , ever since 2009, the year I received my degree in early childhood education. My experience in different facilities in public and private nurseries and daycares have allowed me to discover Maria Montessori's work.
Her philosophy meets my professionnal values and have convinced me to apply them among infants and toddlers. It is with great pleasure that I have decided to become a childminder and join the Nido team.

Adress
3735, route des Dolines
06410 BIOT / Sophia Antipolis
Alpes-Maritimes, Côte d'Azur, France