Teaching team presentation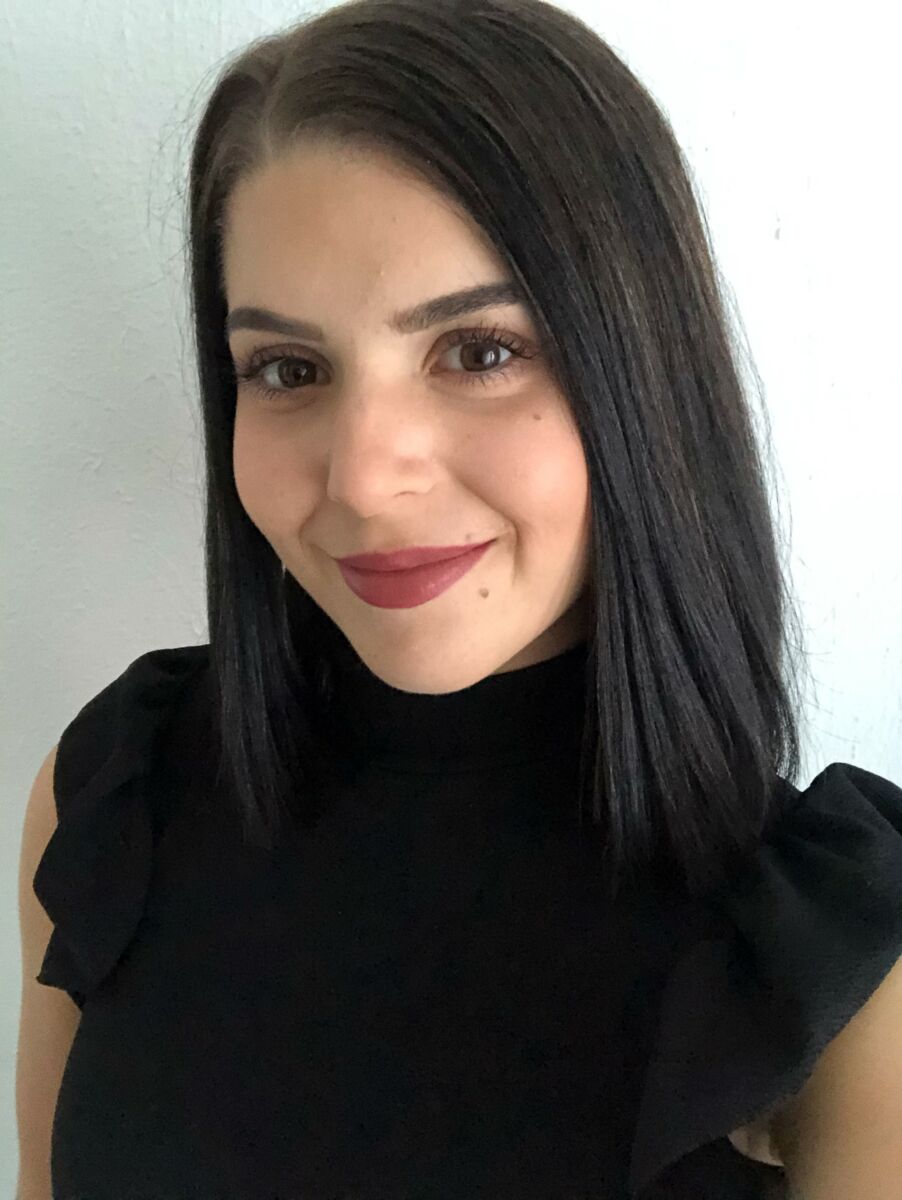 Cassandra SPELLE
Assistant Educator 2-3 Class BILINGUAL
I started my career 8 years ago after having been trained to work with young children in
traditional daycares and schools.
I then discovered the Montessori method 4 years ago and was really fascinated by how the
children were being taught and we're learning so easily.
That's when it all started, I noticed that this method is really in accordance with my values
and my way of seeing things in general.
I've been working as an English speaking Assistant at Les Colibris for almost 4 years now,
and I have experience with children between 3-6 years old, but also with the 2-3 class.
This year I'm happy to be working in the 2-3 class again, it will be a pleasure to welcome
your children and help them progress throughout the year.
Apart from that I really like traveling, playing music and learning new languages.
I also have this love for dance, as I've been dancing for a few years.
I'm looking forward to working with your children and to enjoying this school year together.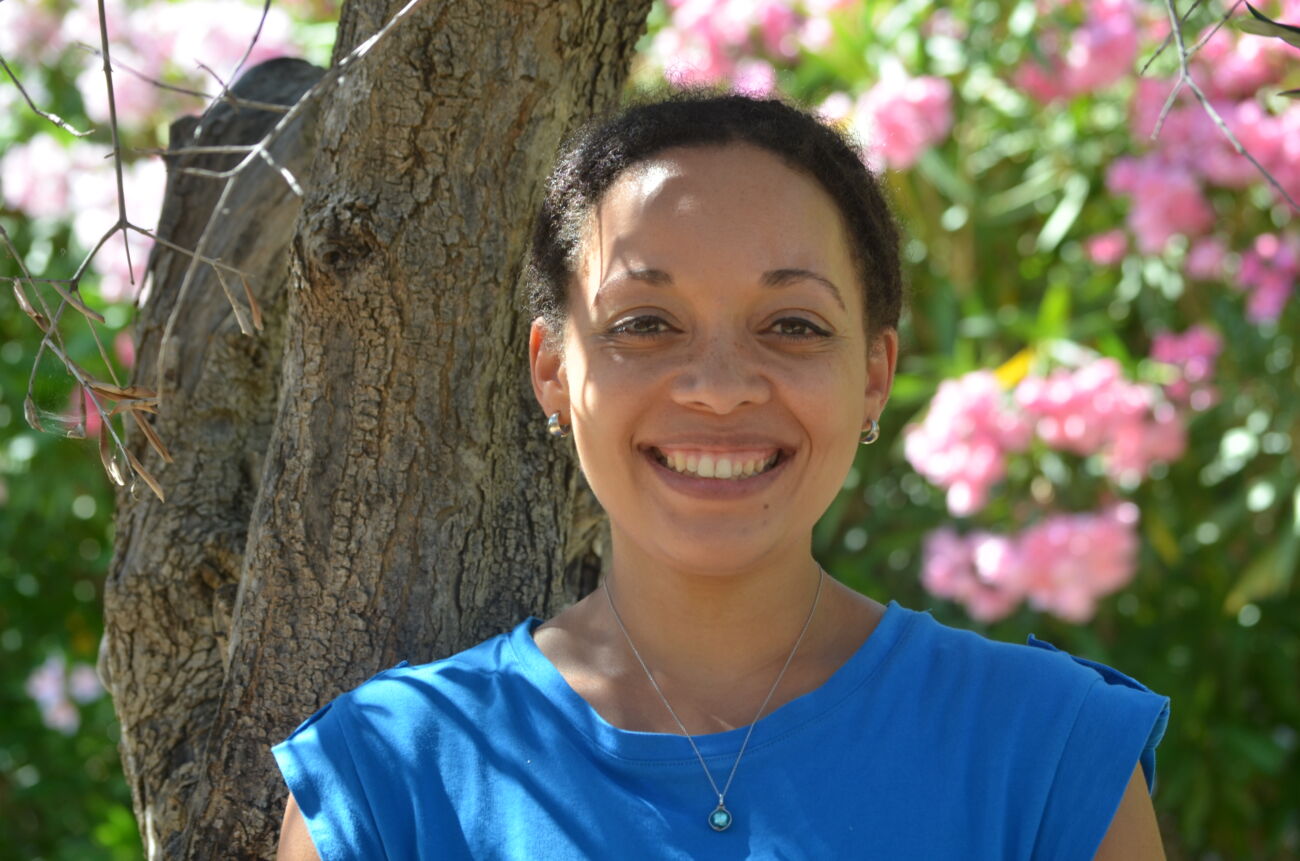 Annabelle STEVENS
Assistant Educator 2-3 Class BILINGUAL
I am a passionate and dedicated English teacher, with a love for adventure, I have lived and worked as a teacher in Italy, France and Japan.
Each country and culture I have had the privilege to discover, each educational structure where I have had the pleasure of working has given me a wealth of rich experience which has kept challenging me professionally and personally. I always aim to improve my practice for the benefit of the children in my care.
I have been specialising in Early Childhood Education since my professional experiences in Japan in 2014-2017, and I have been focusing on Bilingual Montessori Education since joining a Montessori school in 2017. I have training in Teaching English as a Foreign Language and North American Montessori Centre 0-3 yrs English Teacher training as well as 3 years experience as an English Montessori Teacher in 2-3 yrs class.
Originally from London, U.K., I lead an active lifestyle and very much enjoy the little international melting pot and city-nature contrast here.
I bring a lot of joy to my work as well as interests in gardening, dance, cooking and music. I believe the gift we can give to children is to accept them as they are and to offer them the chance to show their confidence, capability and responsibility.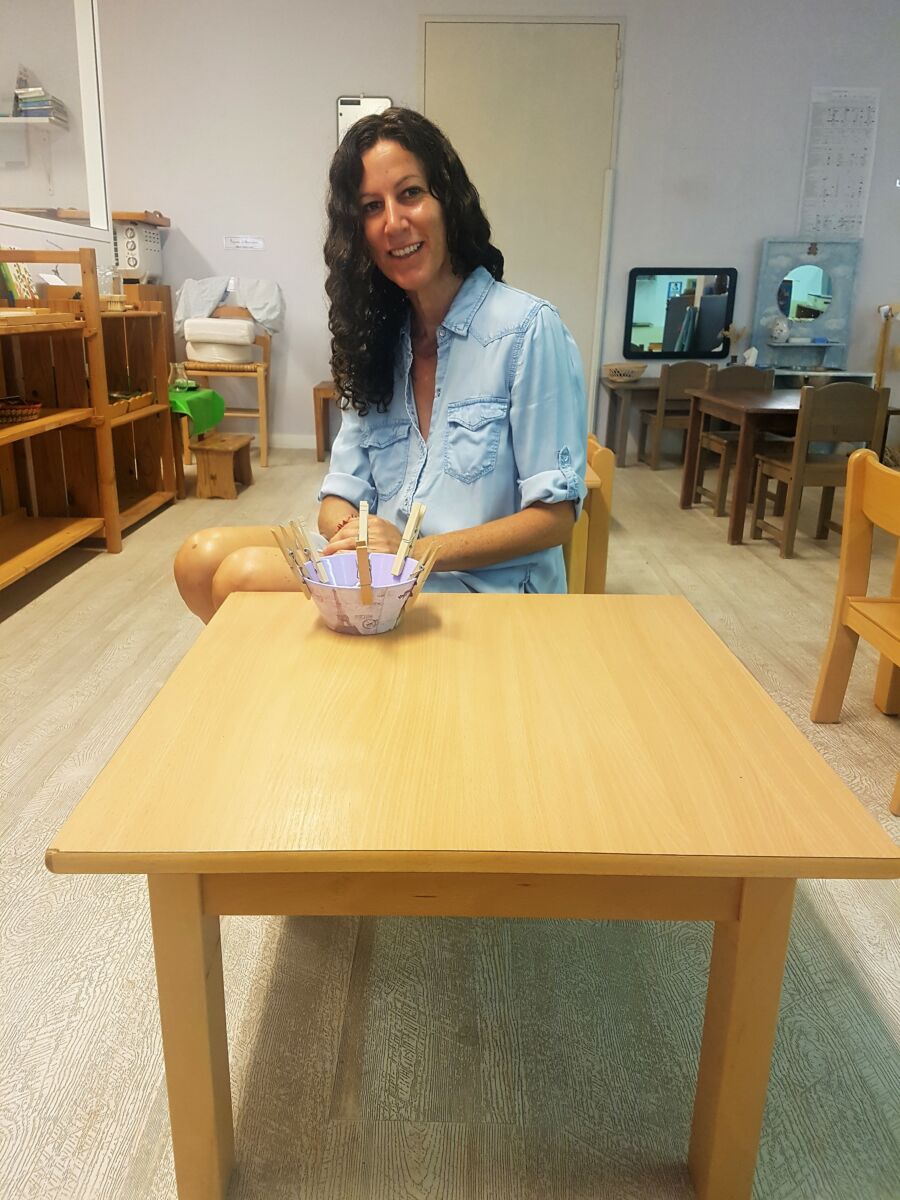 Géraldine AZOUELOS
montessori educator AMI 2-3 Class
After almost 20 years of a theatrical career, upon the arrival of my daughter, I felt a visceral
need to get closer to professions related to childhood. And I could only do it through the
fabulous pedagogy of Maria Montessori.
After having been trained at the Institut Supérieur Maria Montessori in 2016, as an assistant
from birth to 3 years old and then for « the Children's House », I decided to deepen my new
passion with the training of Educator for children from birth to 3 years certified by AMI
(Association Montessori Internationale).
My first 2 years of experience as a Montessori educator 0-3 years in an International
Montessori school have filled me with confidence and conviction in my new path.
Originally from Nice, I came back to my family, while continuing this beautiful journey with
young children, through their wonder and my benevolent contribution. I have many passions
to share with them, including dance, yoga, literature, cooking and sewing.
Caitlin WAGSTAFF
Assistant Educator 3-6 Class BILINGUAL
(Green classroom)
I discovered Maria Montessori after working in South Africa and Vietnam as a volunteer programme coordinator for international students.
In this role, I worked with schools and child welfare organisations that aimed to provide holistic education to families and children from all walks of life. Maria Montessori's words of peace, freedom, ecology and unity resonated deeply with me and opened my eyes to a different vision of the child and how to learn. Soon after, I was back in London studying to become a Montessori Educator in the Children's House at the Maria Montessori Institute, where I graduated in 2018.
Since then, I have spent 3 years working a stone's throw from the Eiffel Tower in a newly opened bilingual Montessori school.
Now, as the mountains and the sea call out to the adventurous side of my personality, I am delighted to be part of the Colibris team and continuing to work in an environment that activates a child's natural curiosity and desire to learn and live in harmony with their environment.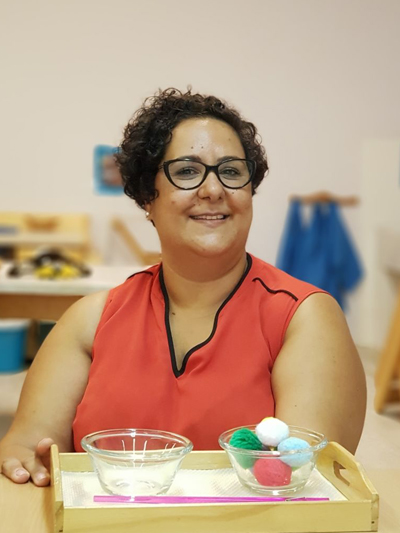 Imma
IANNUZZIELO
Assistant Educator 3-6 Class BILINGUAL
(Green classroom)
Of Italian origin, I have always been surrounded by children in my family and since I was
little I have followed my mother in her kindergarten class.
I started my career in education as a special kindergarten teacher, where I was able to
support children with special needs for 4 years before leading an independent class for
almost 2 years in Italy.
I have always been passionate about new pedagogies: in my country of origin, the pedagogy
of Maria Montessori is part of the know-how of each teacher in the care of children and their
families. But my thirst for knowledge on the method, pushed me to want to know this
approach better: I looked for more specific books, made material and I put it into practice in
my kindergarten class: it was a pleasure to see children flourish and progress each day
independently… .what more beautiful.
Since my arrival in France, I have been pursuing my passion. I thus obtained a master's
degree in Teaching, Education and Training. I prepared myself for the school teachers'
competition, but the traditional French system does not suit me …
So I decided to enter early childhood educator training and graduated after three years of
study. But my passion remains Montessori pedagogy. And it is within the framework of this
training that I had the opportunity to do a long internship at Les Colibris: this time spent with
dedicated professionals allowed me to get to know more closely this pedagogy and these
values of justice, of harmony, love and peace that I fully share.
I believe that we still have a possibility to build a new world and this one can be built through
education. So learning to be a guide for children and the means by which they can
understand the world, is for me a means of personal fulfillment: helping them and staying by
their side is my fulfillment.
Working at Colibris is making a dream come true….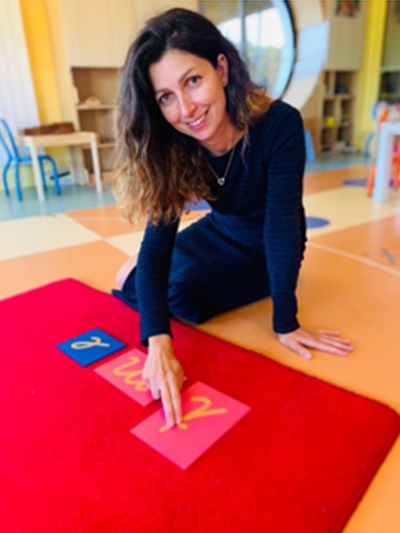 Nadège CLOP
montessori educator AMI 3-6 Class
(Green classroom)
Since my childhood, I have aspired to become a teacher for young children.
I carried out my project 12 years ago by becoming a School Teacher and then a Montessori
AMI Educator for children aged 3 to 6 at the Institut Supérieur Maria Montessori.
Since then, I have met and followed many children, each different and unique.
In a permanent search for learning in joy and adapted to each one, this pedagogy has
proved to be obvious to me.
It corresponds to my vision of childhood and of the educator: To allow each child to grow in
confidence while respecting his needs, his rhythm, his personality and his dignity.
And it is with great pleasure that I exercise this profession of which I am passionate.
I also followed a Montessori 0-3 year-old training in order to understand and support the
child from birth and convinced of the merits of this beautiful pedagogy, I apply it on a daily
basis with my little boy.
I am delighted to be part of the « Colibris » team guided by the values of benevolence and
development of the child.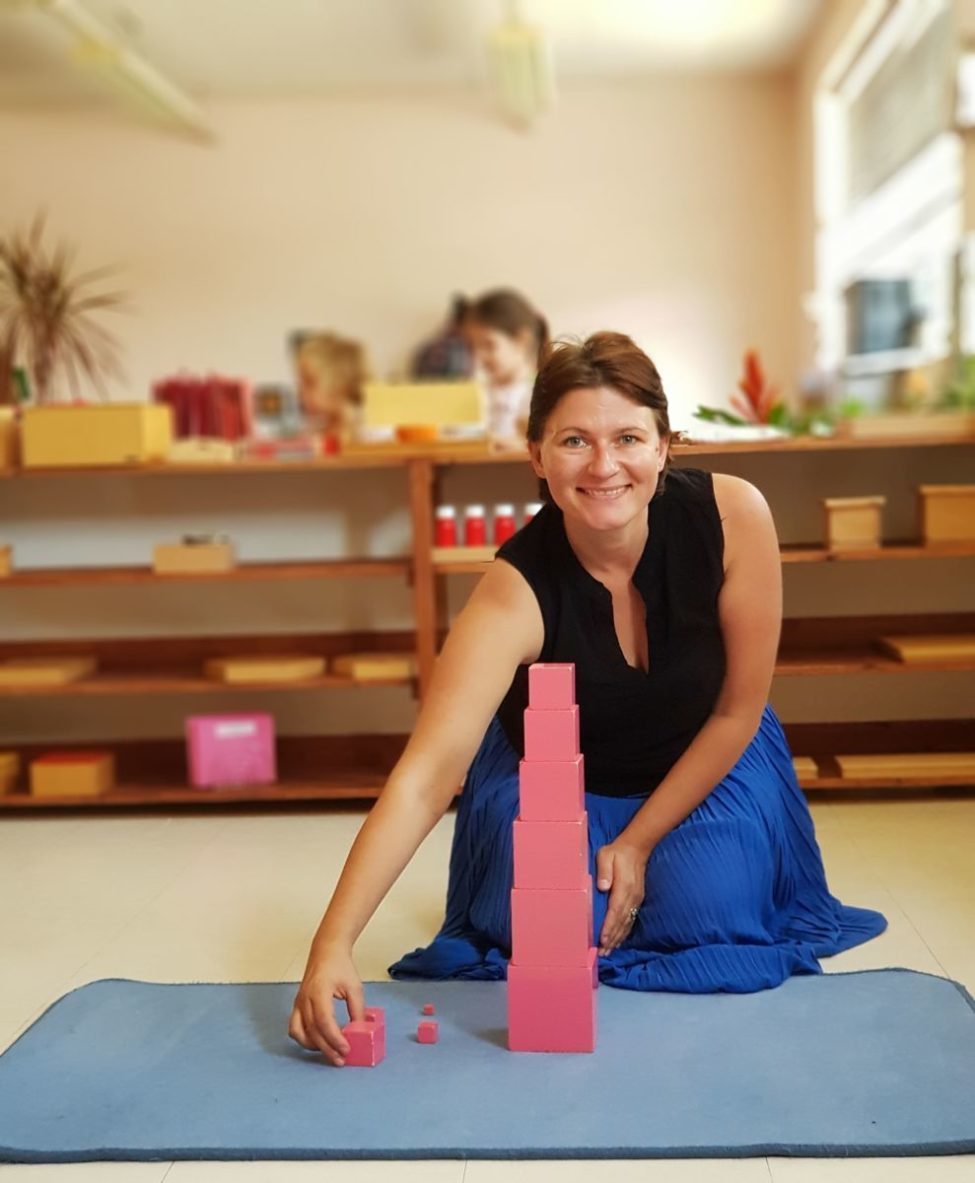 Ania MULICA
Assistant Educator 3-6 Class BILINGUAL
(Yellow classroom)
I have been teaching for almost 12 years. I started out as an ESL teacher for children and
adults in foreign language training centers. Then I worked in international schools in
Cambodia and Thailand, eventually becoming interested in Montessori pedagogy and
philosophy last year.
I started my training as a 3-6 year old AMI Montessori Assistant this summer in order to
acquire the necessary skills to guide children in their development.
I can't wait to be in the classroom and see how children change and grow in the Montessori
environment.
I am delighted to be part of the Colibris team and to have the opportunity to grow surrounded
by dedicated and competent teachers.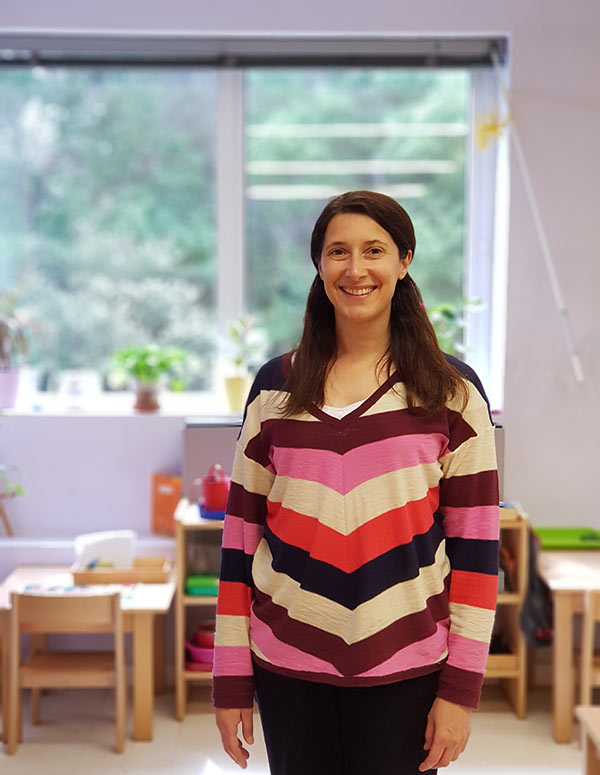 Sophie SIMARD

Assistant Educator 3-6 Class
(Yellow classroom)
À l'adolescence j'ai passé mon BAFA pour travailler au contact des enfants et je suis allée à Londres 1 an travailler comme fille au pair et m'occuper d'une fratrie.
Après des études de lettres à l'université, et m'être formée à la pédagogie Steiner-Waldorf 3 ans dont 1 année dédiée à la petite enfance, j'ai exercé 8 années en tant que professeur de français avec des adolescents de 15 à 18 ans en région d'Avignon. Nous pratiquions de nombreux ateliers d'écriture et faisions beaucoup de théâtre. Devant les difficultés biographiques que certains élèves rencontraient, j'ai senti le besoin de compléter mon approche d'aide à la personne par l'art-thérapie grâce au théâtre, au conte, à l'écriture, au modelage et aux arts-plastiques.
Mon envie grandissante de retrouver le monde de la petite enfance, je me suis naturellement dirigée vers la pédagogie Montessori que j'avais découverte lors d'un stage d'immersion. Je me forme à présent au cycle des enfants de 3 à 6 ans. Riche de toutes ces expériences et approches complémentaires, je souhaite prendre soin des enfants et les aider à grandir et devenir des hommes libres et conscients.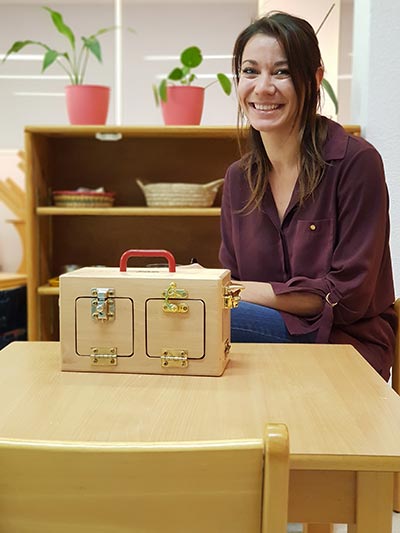 Elise CHENAUD
montessori educator AMI 3-6 Class
(Yellow classroom)
I graduated from BAFA at the age of 16. I was already very drawn to work with children and I
was able to start very early on accompanying holiday camps, supervising music groups and
school trips.
It was during a trip in Ireland that I discovered Montessori Education. I then left France to
settle in Dublin and take the 3-6 Montessori training course in a private school. I also
graduated from FETAC (Further Education and Training Awards Council) in Ireland
(Supervision in Childcare).
At the end of this training I taught in a Montessori school as an English Montessori educator.
The lack of my family and my country of origin prompted me to come back to France in
2014. I then started working at Les Colibris in the 2-3 year old class as a Francophone
educator.
Every day at school is the same in routine, but is so different and changing in learning and
development that we can see in every child.
It is a real pleasure to be able to be a witness and an actor in the development of each child
and to have a Pedagogy which promotes the autonomy of the child and which respects his
rhythm, while having the possibility of instilling magnificent values. that are peace, respect,
mutual aid and benevolence.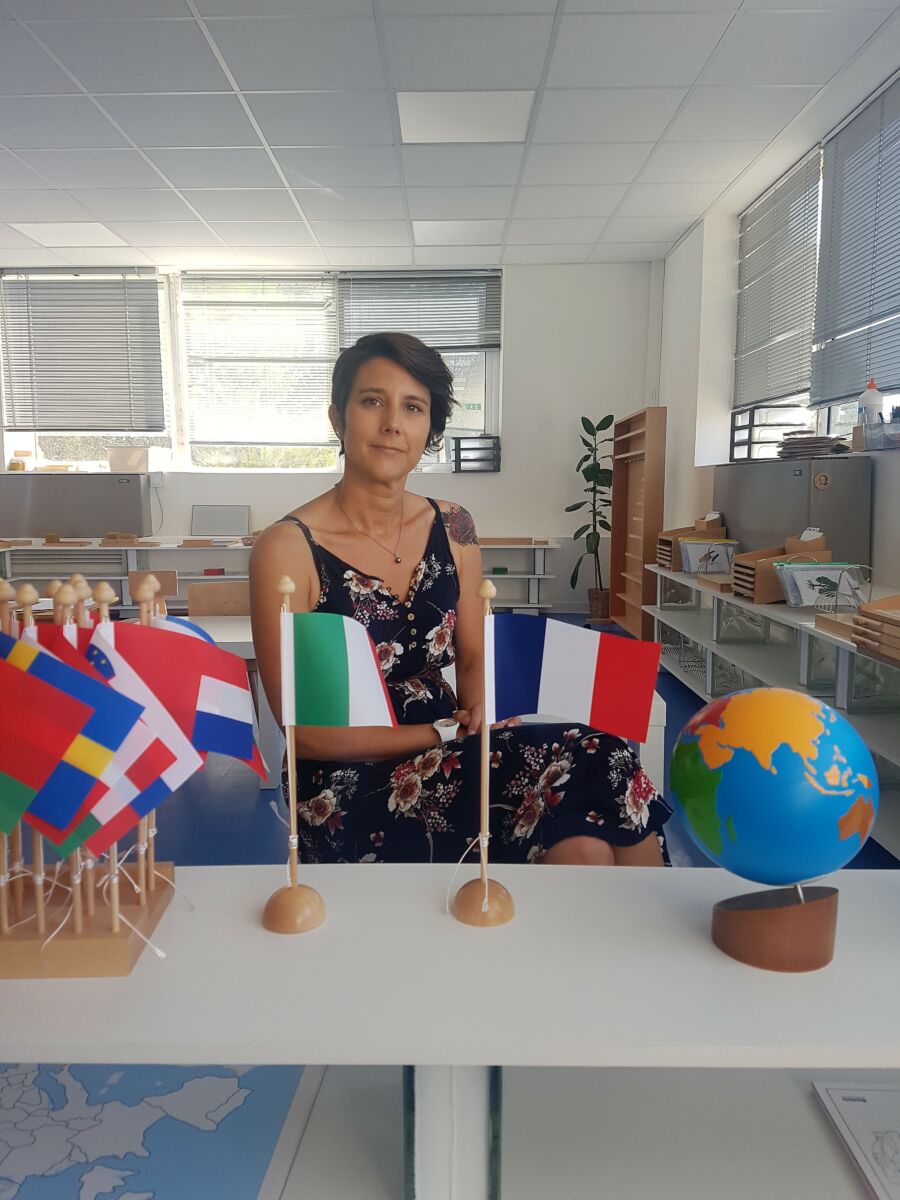 Céline LOMANZO
Assistant Educator 3-6 Class BILINGUAL
(Pink classroom)
I started my early childhood career in 2009 with the CAP Petite Enfance.
Then I had the chance to discover Montessori pedagogy at the Montessori school in Vevey,
Switzerland where I was an assistant educator for 3-6 years for a year.
I was immediately fascinated and convinced by Montessori pedagogy, which truly meets the
basic needs of all children.
Passionate about this pedagogy, I trained in Sweden, and obtained my Montessori AMI
educator diploma for 3-6 year-olds in 2010.
I continued to practice in Switzerland for five years.
Subsequently, I moved to New Caledonia where I participated in the opening and taught in
the first Montessori school in New Caledonia, in Noumea.
These experiences have allowed me to meet and learn different cultures; the common point
is always the child and his development, his needs and his support.
After these years of experience, I am more than convinced and passionate about Montessori
pedagogy, I was able to apply it and really appreciate the results:
– Blooming children
– Curious
– Independent
– Who think and ask questions
– Who trust themselves and respect others with their differences.
Every day is a pleasure for me to support each child in his learning, at his own pace and by
following his interests for his development.
I am delighted to be part of the « Colibris » educational team and to grow within a team of
dynamic and motivated professionals.
Children are the future and I am delighted to be able to support them every day to be the
adults of tomorrow, for a better future.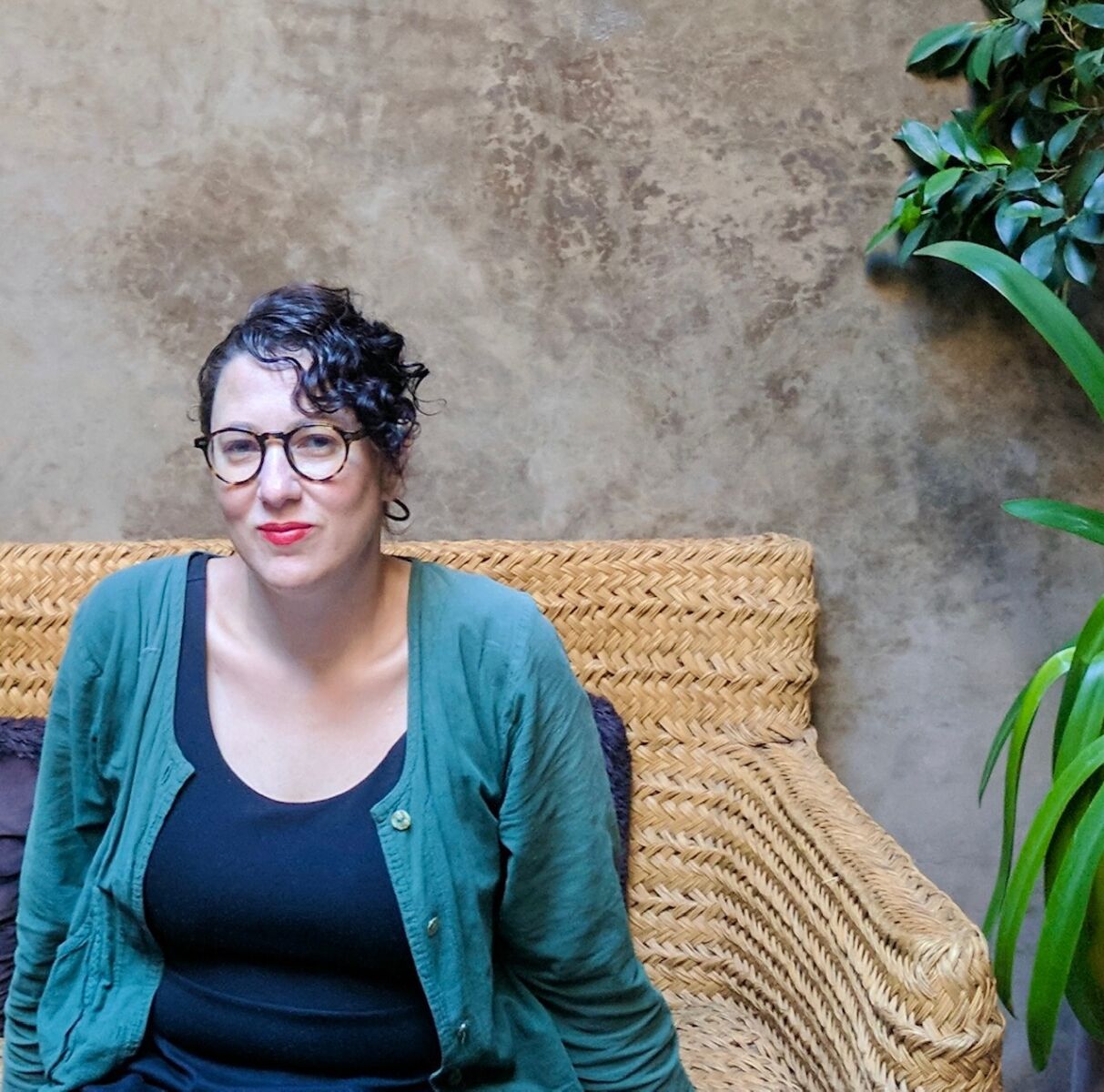 Layla GAIB
montessori educator AMI 3-6 Class
(Pink classroom)
I have always felt that early childhood education is the key to creating a better world, and that the role of the educator is one of the most important in society.
I discovered the Montessori pedagogy in my early 20s, and have been passionate about it ever since. What inspires me most is its focus on community, empathy, and cooperation, and how the Montessori prepared environment is a microcosm of the ideal peaceful society.
I have been applying the Montessori philosophy in working with children for 20 years, in Canada, Morocco, Tunisia, and Martinique. Throughout these years I have been able to truly see the children grow into caring, confident, curious, competent, and productive members of their community.
One of my main areas of focus as a Montessori guide has been ecological literacy and environmental stewardship, and fostering an awareness of these in young children. Beyond providing students with plenty of opportunities to connect with nature, I believe it is important to encourage them to create, implement, and maintain their own conscious and sustainable practices in caring for their environment on a day to day basis.
I am delighted to be at the dynamic community at Les Colibris, and I greatly look forward to working together to help the children thrive to their fullest potential!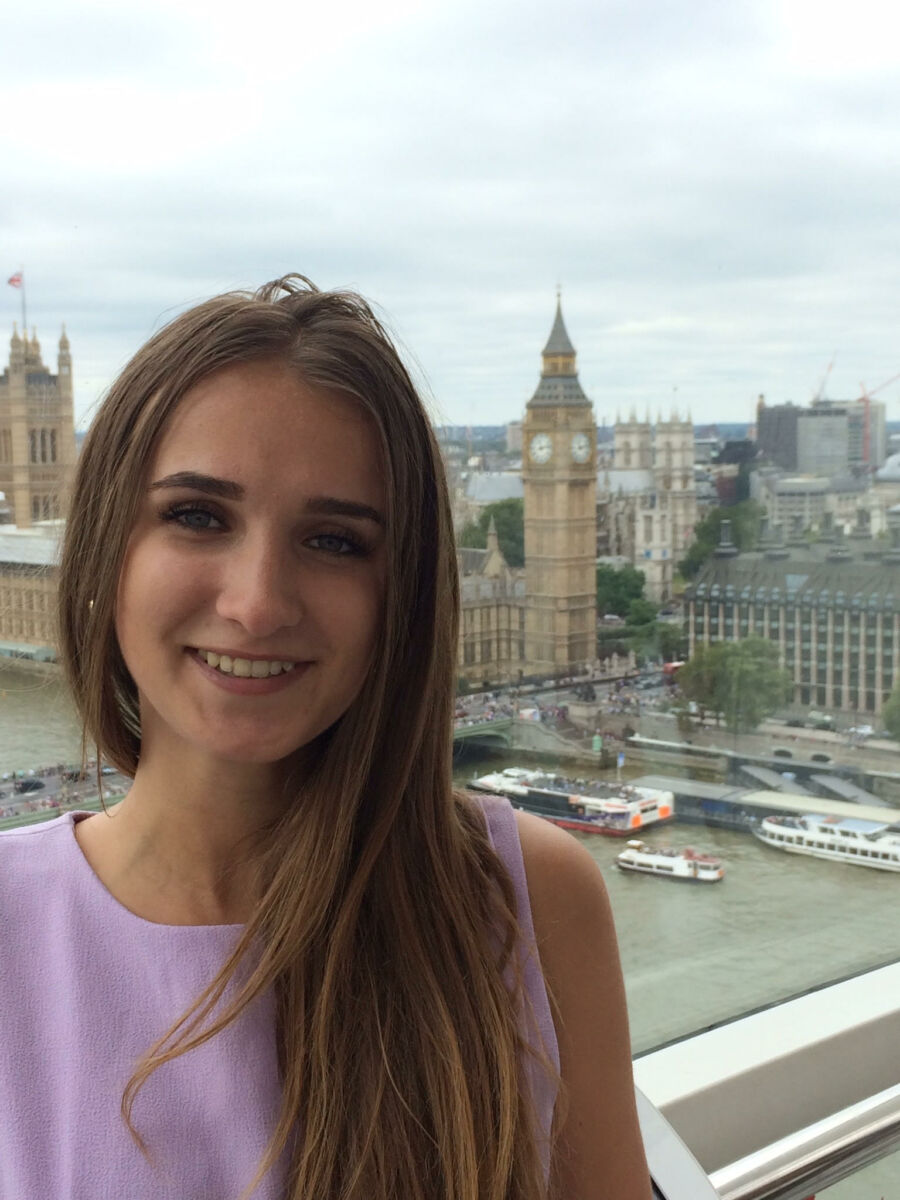 Inès LOPEZ
Assistant Educator 6-12 Class BILINGUAL
(Orange classroom)
Guided by the desire to understand, help and support humans through therapy, it was natural that my studies began in the field of psychology at the School of Practical Psychologists in Lyon. It was during these years and thanks to the crossing of all these data which could explain what could hinder the optimal development of the human being that education appeared to me, as Maria Montessori said, as an « aid to life « . Thus, it was in August 2019 that I joined the Institut Supérieur Maria Montessori in Montpellier, and obtained the AMI 6-12-years-old educator diploma in June 2020. Following this year rich in learning, in revelations thanks to the material but also by the clairvoyance that Maria Montessori had during her life which she dedicated to the establishment of this pedagogy respectful of the development of the child, I was able to teach as a Montessori 6-12 educator in a class of around thirty children in Guadeloupe. Subsequently, I wanted to train myself in the accompaniment of children with specific needs, High Intellectual Potentials and the various difficulties that they encounter in our classes.
It is with joy and enthusiasm that I return to my native department and join the Colibris school for this support with children which is so dear to me.
I am from Vence, where I grew up in a Franco-Spanish family and I am perfectly bilingual."
Emma LAFRANCE

montessori educator AMI 6-12 Class BILINGUAL
(Orange classroom)
I am trilingual French, English, Spanish and mother of 3 children. I arrived in France in 2002 with a master's degree (Bac +5) in literature.
It was with great fascination that I discovered Montessori pedagogy when I was looking to educate my eldest daughter, who was 2 years old at the time.
I obtained the Montessori diploma for 3-6 year olds in France and the Montessori A.M.I diploma for 6-12 year olds at Montessori College Dublin in Ireland.
I have over 11 years of experience in Montessori pedagogy and I am always captivated by the development of the child.
I am very athletic, I particularly love skiing and trail running, and I am passionate about the arts: dance, painting, sculpture and literature.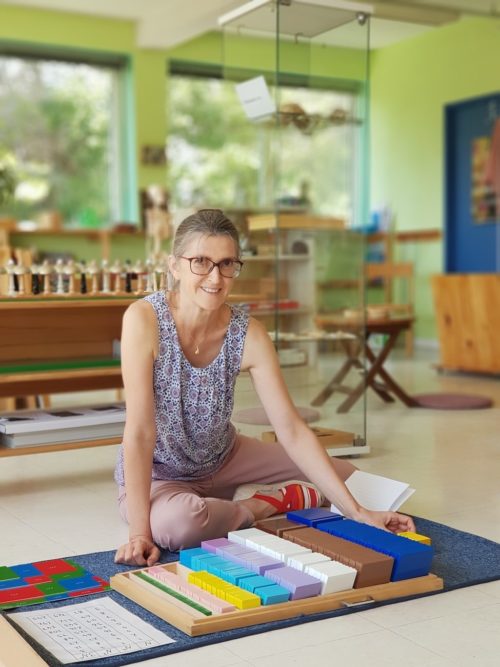 Nathalie COLIN

montessori educator AMI 6-12 Class BILINGUAL
9-12 class

(Emeraude classroom)
After completing my master's degree in English literature, I flew to Liverpool. It was the beginning of an immersion into an educational world with an alternative pedagogy based on research methods, then innovative until I discovered the work of Maria Montessori at a key period of my life.
Graduated by the International Montessori Association for the 3-6 year cycle in 2005 in Paris and the elementary cycle in 2009 in Saint-Paul, (Minnesota USA), I crossed the Atlantic Ocean to work eleven years in a Montessori school trilingual international where educators came from different continents. In the United States, I have had the incredible chance to follow children from Maison des Enfants as they leave the last year of elementary school, to see words come true and their potential develop. I continue to train for pleasure and for need. Singing, drawing and now, I dive into the world of reflexes.
With 29 years of teaching experience including 14 years in Montessori pedagogy, I am happy to join the Colibris team. Working in a multicultural, multilingual environment represents both a richness, an openness and a source of inspiration that I try to pass on to young and old alike.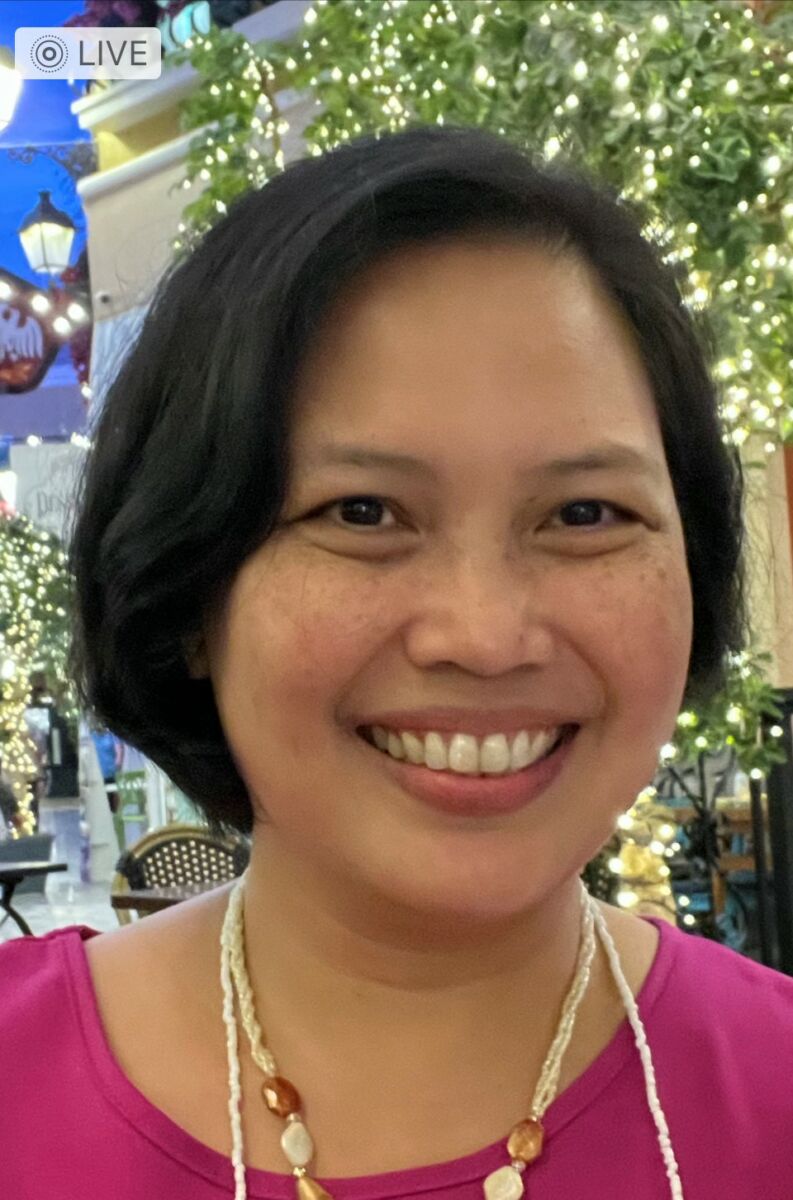 Anna

montessori educator AMI 6-12 Class BILINGUAL
9-12 class

(Emeraude classroom)
I have always believed that we are where we are for a reason.  Fresh from university, I joined a consulting firm and was in the middle of obtaining my master's degree in Organizational Change and People Management when I discovered Montessori.   The more I learned about Montessori pedagogy and philosophy, the more I wanted to embrace it – not just as an educational method but as a way of life. 
I was sent on a scholarship grant to take the Advanced Montessori Elementary Course (AMI 6-12) at the Fondazione Centro Internazionale Studi Montessoriani in Italy.  With my 20 years of Montessori teaching experience, and now a mother of two teenagers and an elementary child, my belief in the Montessori method has not waned.  I have seen it work in the classroom, at home, and even online!  
I am filled with the same zest for teaching (and learning) as I've had many years ago.  I have faith in the environment, the children, and the other adults with me.  Together, we will help children achieve their potential to the fullest.

Adress
3735, route des Dolines
06410 BIOT / Sophia Antipolis
Alpes-Maritimes, Côte d'Azur, France