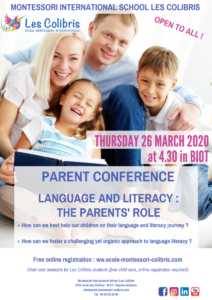 Language and literacy : the parent's role
•  How can we best help our children on their language and literacy journey? 
•  How can we foster a challenging yet organic approach to language literacy?
Join us for a conversation filled with practical suggestions for helping our children become languistically successful and highly literate students. What's important and what's not ? 
Free and open to all.
Thursday 28 March at 4.30 pm
                                            in Ecole Montessori Internationale Les Colibris, 3735 route des dolines 06410 Biot
CONFERENCE FREE INSCRIPTION HERE
Free childcare for the Colibris school children. FREE AND OBLIGATORY INSCRIPTION through this link HERE